fiction
by ravenbait on Jul.28, 2013, under fiction, Triathlon, Writing

I am thrilled and delighted to announce that my science fiction story When Shepherds Dream of Electric Sheep will appear in the Looking Landwards anthology from Newcon Press. I am over the moon to share a table of contents with such well-known and exciting authors, and my thanks to Ian Whates for picking my story. The book launches in October at BristolCon, and is being produced in collaboration with the Institution of Agricultural Engineers to celebrate their 75th anniversary.
Thanks are also due to my British Science Fiction Association crit group, Orbiter 6, whose harsh on writing but supportive of writers attitude has helped me enormously in the time I've been with them.
On the 14th September, at the Douglas Hotel, Market Street, Aberdeen, we will launch the next Lemon Tree Writers chapbook, Point of Balance, containing 6 pieces of short and flash fiction from LTW members, including me. The cover is by Alibarbarella and we are looking into making it available for sale as a print (minus the text, obviously!) at the launch.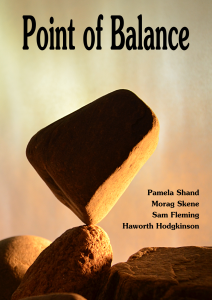 I can also report that my flash homage to Russell T Davies, Why Don't You Switch Off Your Television Set And Go And Do Something Less Boring Instead has been picked for performance as part of the Aberdeen Literary Festival, New Words. I will be reading this piece at the Lemon Zest event at the Peacock Visual Arts Centre on Castle Street in Aberdeen. The event starts at 19:30 on the 15th September, which is the day after our chapbook launch, so it'll be a busy weekend. Luckily I've no races planned!
Speaking of races, I'm feeling particularly kick arse today as, on top of all of the above, I won my first ever race, even though the bike leg was cancelled due to flooding. I will post a full report when the final times have been released, but I can say in summary that today is made of AWESOME and WIN.
More days like today please!
2 Comments
:aberdeen, race, sales, tri, Writing
more...
by ravenbait on May.05, 2013, under fiction, Writing

I emerge, blinking, bleary and grumpy like a disturbed hamster, from the double insomnia fuel of deadlines and on-call, to announce that Fish is now available from Amazon.
As I'm sure you remember, Fish is the anthology from Dagan Books that contains my dark slipstream story What the Water Gave Her. This was described by SF Signal as:
…a dark, weird and lovely tale about a misunderstood girl, the fish she talks to, and the other things she sees.
Buying this book will not only get you my story, but will also put works by authors such as Ken Liu and Cat Rambo, Polenth Blake and Corinne Duyvis on your shelf.
Fish is a wonderful mix of new and established voices, offering a range of work from the dark to the whimsical, from science fiction to myth, and in between and none of the above. It has exquisite art by Galen Dara inside and on the cover.
I've been waiting to post about it because I, like many of my friends, am very much a lover of the printed form. Now you, too, can experience the thrill of new book smell coupled with the excitement of new work from authors you've heard of, and work from authors who may become firm favourites.
"I describe Fish as effortless, dream-like, diverse and exquisite, which certainly holds true as I consider the anthology to be a revelation, because it's just fish. No restrictions upon genre, no neatly defined prompt to cater to specific tastes. It's just you and the stories and the fish. Simple and yet so risky. As you read Fish, you step further into a dark and undisturbed ocean where you see reflected light dance across scales and experience ink-black beauty with sharp teeth." – Haralambi Markov, Alternative Typewriter
Those of you across the Pond can buy Fish from Amazon.com. If you are fully committed to digital, you can still buy your DRM-free ebook directly from Dagan for $4.99. EPUB for NOOK and other readers, here, MOBI for Kindle and other readers, here.
It's also available from Amazon UK for £3.28 (about the price of a pint, these days), Amazon.com and Barnes and Noble.
Share the love!
Leave a Comment
:sales, squee, Writing
more...