Jul.28, 2013, filed under fiction, Triathlon, Writing

I am thrilled and delighted to announce that my science fiction story When Shepherds Dream of Electric Sheep will appear in the Looking Landwards anthology from Newcon Press. I am over the moon to share a table of contents with such well-known and exciting authors, and my thanks to Ian Whates for picking my story. The book launches in October at BristolCon, and is being produced in collaboration with the Institution of Agricultural Engineers to celebrate their 75th anniversary.
Thanks are also due to my British Science Fiction Association crit group, Orbiter 6, whose harsh on writing but supportive of writers attitude has helped me enormously in the time I've been with them.
On the 14th September, at the Douglas Hotel, Market Street, Aberdeen, we will launch the next Lemon Tree Writers chapbook, Point of Balance, containing 6 pieces of short and flash fiction from LTW members, including me. The cover is by Alibarbarella and we are looking into making it available for sale as a print (minus the text, obviously!) at the launch.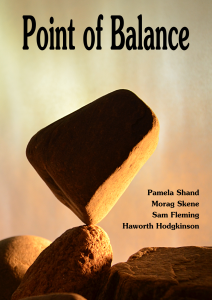 I can also report that my flash homage to Russell T Davies, Why Don't You Switch Off Your Television Set And Go And Do Something Less Boring Instead has been picked for performance as part of the Aberdeen Literary Festival, New Words. I will be reading this piece at the Lemon Zest event at the Peacock Visual Arts Centre on Castle Street in Aberdeen. The event starts at 19:30 on the 15th September, which is the day after our chapbook launch, so it'll be a busy weekend. Luckily I've no races planned!
Speaking of races, I'm feeling particularly kick arse today as, on top of all of the above, I won my first ever race, even though the bike leg was cancelled due to flooding. I will post a full report when the final times have been released, but I can say in summary that today is made of AWESOME and WIN.
More days like today please!
:aberdeen, race, sales, tri, Writing
2 comments for this entry: