Jul.17, 2013, filed under Reviews, television

Something has to be exceptional to end up reviewed on this blog. There are a number of ways to be exceptional, but most of the time I review something either because it's very, very good or because it's really, really bad.
Hannibal, the TV series currently showing on Sky Living in the UK, depicts Thomas Harris's eponymous serial killer during the time prior to Red Dragon, when Jack Crawford was hunting the Chesapeake Ripper.
And it's very, very good.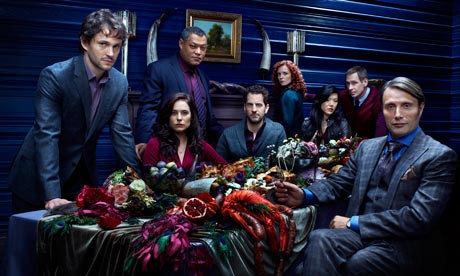 I've seen mixed reviews of the series, and I'd not expected to like it. Hannibal Lecter, for me, is one of the great character inventions of modern fiction. He's a serial killer who isn't the typical sociopath or psychopath. He's a man of refined tastes. He eats the rude, and that, for me, is delicious. I disliked what was made of the character in Hannibal Rising — Harris took something monstrously pure and gave it a reason to be. He tried to make Lecter a sympathetic character, someone for whom we should feel pity and understanding.
I think Lecter would have despised him for that. Lecter needed no reason to be. He just was.
Bryan Fuller, who developed the series, has stated that he consciously tried to imagine what David Lynch would do with a Hannibal character. But that doesn't mean this is Twin Peaks with a more expensive taste in wine and patisserie; this is dark, eerie, intelligent, moody and stylish.
Lecter is portrayed by Mads Mikkelsen (who narrowly pipped David Tennant for the role) with admirable restraint and good-natured, predatory grace. Although initially doubtful, having previously seen him as the unnamed warrior in Valhalla Rising, I was won over within a couple of episodes. His accent is going to make it difficult for him to speak perfect Tuscan when he finally gets his job in Florence, but it's perfect for this series. He has a poise and presence that make him eminently believable as the psychiatrist whose solution to dodgy flute playing is fine dining.
Will Graham, the FBI profiler with the empathy disorder, is played with beautiful sensitivity by Hugh Dancy — who, it must be said, would make a fine Doctor on the back of this performance. His performance was one of the factors that hooked me in the first episode. Over the course of the series — we're up to episode 11, with a further 2 to go in this season — his portrayal of deterioration has been believable and moving.
The other cast members also do a good job. Will's doctor friend, Alan Bloom, for this series has become Alanna Bloom, played with forthright conviction by Caroline Dhavernas. Freddie Lounds, the Tattler reporter who loses his lips to the Tooth Fairy in Red Dragon, is also played by a woman in this version, which should make the reinvention of that scene, when it comes, very interesting indeed.
Best of all is the writing. There is a very strong team here, including (huzzah) a woman writer — Jennifer Shuur. (She might be the only one so far, but that's one more than Doctor Who, at least.) There is nothing in the storytelling that is wasted. There are no plot elements there purely for the sake of being there. This isn't one of those series where there's a different story every week with some meta-arc crowbarred into the plot, punctuated with a Hulk smash double episode just to make sure. Every single element of every episode is related, in some way, to the overall arc. Everything — everything — is about Will and Hannibal, which makes it all the more remarkable that it's not immediately obvious exactly how the relationship is playing out, and yet, once it's clear, the clues have been there all along. In everything. This is what I call fractal storytelling, and it gives me goosebumps. Exposition, the technique of stating everything explicitly, just to make sure the audience understands, is a strange attractor. Everything weaves and twines around it without ever touching it. I've not seen a television series do this comprehensively in a very long time; nor one to place such trust in the intelligence of the audience.
It's not perfect. I'd be worried if it were. In the last couple of episodes the depiction of real medical conditions has been slightly haphazard and the writers have cherry-picked symptoms to fit the story (a particular bugbear of mine). This is, however, my only complaint to date, and the number of people who will be familiar enough with obscure conditions like Cotard's and Anti-NMDA receptor encephalitis to pick up on where artistic licence has come into play is probably small.
Bryan Fuller has done a fantastic job and I can't wait to see what he's going to do with the rest of the material.
:review, tellybox
No comments for this entry yet...