Apr.25, 2013, filed under Race reports, Triathlon

This past weekend saw me return to triathlon competition after a nearly three year hiatus. My last race was Dalkeith, May 2010, and it was in that race I ruptured my plantar fascia—a particularly painful injury that left me hobbling for 9 months.
The turning point came during a camping holiday in Wester Ross, which I spent barefoot. Lo and behold, I was able to walk again. After getting hold of some Vibram Fivefingers, and with a suitable time for recovery, I started running. Swine flu was another set-back, but after two years of re-learning how to run, adjusting my biomechanics the hard way, and careful training, I felt able to return to racing.
Turrif triathlon, a sprint, was my first since Dalkeith 2010. It was great to see some familiar faces as well as getting to know some new ones, and absolutely super to discover my absence had been noticed on the race circuit. I had really missed racing—not just the competition, or the challenge, or even the opportunity to drool over some spectacularly nice bikes, but also the camaraderie. No matter how fast or slow you are, fellow triathletes will cheer you on and congratulate you for your effort. That mutual support is one of the biggest happy-making things I know, right up there with puppies with big feet, Maru with a new box, non-Newtonian fluids and scale invariance.
I wasn't expecting the race to be a fast one, and it wasn't. At 1 hour 32 minutes and change, it was the slowest sprint race I've completed. The swim came in at around 13'45, but I can't be sure what the time was because my HRM broke. Transition (and the timing mat) was 150m over uneven ground from the pool and we were required to put shoes on to get down there. The conditions were abysmal, the worst I've experienced. Serious wind, rain and hail made the cycle leg even more difficult than the steeply undulating terrain, bad road surface and flooding would have made it anyway. When I entered T2, after my slowest cycle leg ever (50 minutes is appalling) my kit was floating. I am not joking. My toes were so cold that it was a struggle to get them into soggy Spyridons, and my transition time seriously suffered— T2 should not take 1'50.
Despite all that, I managed a PB in the run and a second in class for my first ever placing.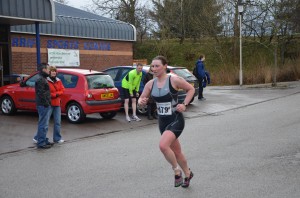 Yay!
My utter delight and sense of achievement is tempered only slightly by my sense of annoyance that the above picture is the only one in which I think I look reasonably good. Here's another, in which I don't think I look good: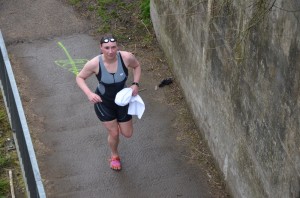 I look at that and think, "Oh gods, I need to lose weight. My thighs look like a pair of canoodling walruses."
This is so wrong.
In that picture I have just swum 750m in under 14 minutes and was one of the fastest in my heat, having passed everyone else in my lane bar one. I've struggled into my bikilas and run across the car park, down some slippery steps, and am on my way to another car park, where I will jump on my bike, ride 20km in absolute filth, then finish off with a 5k run.
Does it really matter that I weigh 67kg and have thighs that touch? What's more important? That I don't conform to socially-acceptable standards of beauty (thin, unblemished skin, cheekbones you could shave with, hair as thick as a bear's), or that I can come back from injury and severe illness and still run faster than I could 7 years ago despite not having shed the relatively small amount of weight I gained during my time off? Should I devote mental energy to bemoaning the fact I can't even contemplate running without a decent sports bra, unlike some of the more athletic ladies; or spend it considering all the ways I could shave off the paltry 2 minutes that came between me and third lady overall?
Yeah. I don't need to spend much time thinking about that. In the grand scheme of things, and despite what Dove would have us believe, function is far more important than appearance. I'll keep on training, and if I should end up leaner and meaner, great, but if I don't I'm not going to hate myself for it.
My next confirmed race is St Andrews, but I'm looking for others to enter this year. I'll probably do Inverurie at the end of July, and maybe Knockburn would be fun. Bearing in mind that I like 3-4 weeks between races and don't want to travel too far this year, any other suggestions?
:feminism, race, tri
1 comment for this entry: