Dec.27, 2011, filed under Life with Frood, rambling
As has become something of a tradition over the past couple of years, we're spending Christmas away from (temporary) home in the company of family. As is also something of a tradition, we're spending the holiday season in the back of beyond where there is almost no phone reception, so if you have sent me any text messages wishing me good cheer and I haven't replied it's not because I don't love you any more: I haven't received it. We do, however, have wifi and this year I brought a laptop so I can continue writing.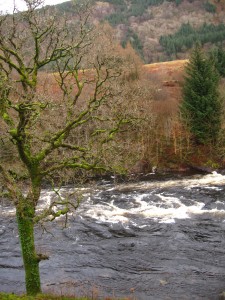 The lodge where we're staying is amazing. Seriously amazing. I could live in a house like this quite happily. The only thing that could make it better is if it were a lighthouse, but I'm being picky. The weather so far has been fairly grim and dreich, so the light has been far too poor for taking photographs. Still, I snapped this shot of the view from the upper balcony in an effort to show the spectacular view of the torrents roaring constantly in the background. We sleep with the window open.
Yesterday Frood and I went out with the parents on a short but windy, wet and enjoyable bike ride to explore a little. Needing something that would fit on the rack, and with most of the noble steeds in storage, I was obliged to bring Shackleton, sporting his brand new wheels (more on that particular saga later). The thing is, I've put the Hutchinson Gold Cross tyres on him in preparation for the snows, and I left the 16 tooth sprocket on, so he's currently rolling around with gear inches in excess of 70. This would be fine for the hill-free streets of Aberdeen, but out here in the wilds the roads come in lumpy. I think we did all of 6 miles yesterday and my legs are no longer speaking to me. I am seriously out of practise on fixed!
Finally, here is medium-sized Stitch (still on his Scotland tour) wearing the Stitch slippers Nick and Candice got me for my Christmas:
:Cycling, fixed, frood, photos, scotland, shackleton, stitch, winter
3 comments for this entry: