May.04, 2011, filed under Reviews, television
Off work sick with a severe chest complaint that this morning has seen the doctor put me on Hulkinator medication and yet another course of antibiotics1. So, apart from doing a bit more research and coming up with a whole new line of plot to explore for the Russian piece (working title Winter's Weeping) and fiddling about a bit with ideas for the fixed-gear zombie utopian near-future piece (Carmageddon? And yes, I did say utopian, if only because cycling on the M4 around Bristol has been a long-standing fantasy of mine), I've been pondering the last two episodes of Doctor Who.
I'm a fan. I'm not a Whovian, because my credentials extend only as far as owning the box sets for Eccleston onwards and watching certain episodes of Tennant's run when I'm in serious need of cheering up. I haven't read or listened to any of the extended universe (with the exception of the Minister of Chance) and have no desire to buy any of the classic titles with Tom Baker or the rest. Well. Maybe the Romana episodes, but only Romana 1. I admit that I own a copy of the terrible movie, number 8's only TV outing, poor chap, and have a better than average grasp on how the Time War is supposed to have affected his mental state in the ensuing generations (and then only because the average person couldn't give a stuff). But that's as far as it goes. Seriously.
That makes me a bad fan. I'm pretty bad at being a fan in general. I'm a bad Marvel fan, too.
Why am I a bad fan? Well, as far as I can tell, the job of a fan is to squee relentlessly about how awesome something is and find excuses for any and all flaws (cough Liev Schreiber cough the hair cough what they did to Deadpool cough NO I HAVEN'T FORGIVEN THEM coughcoughcoughcoughcough). A fan is not supposed to hold up a creator's offering and judge it with a critical eye. One is supposed to celebrate the NEW and EXCITING style and the INNOVATIVE use of VISUALS and HIGH DRAMA.
David Tennant got me interested in the New Who. It was his fault. Tennant's Who was brilliant, genius, dappy, occasionally unpredictable, deeply flawed and carrying a deep, desperate sadness inside him because he knew where the bottom line was and knew what it was like to stand there and hold fast despite everything in the universe wanting nothing more than him to give up and give in. Where Number 9 was still on the rebound from the Time War, Number 10 had come to grips with the awfulness of what had happened and the things he had done. He wanted to be better than that while still knowing, somewhere, that he was already the best because there was no one else.
He was that kind of man.
I was sad when Tennant left, but Matt Smith's entrance showed promise and it was Stephen "Blink" Moffat who was taking over. Stephen "I wrote all the really good ones" Moffat. I mean, it couldn't not be good, right?
And yet, by the time I'd got to the end of the series and was gnashing my teeth over the Bill & Ted ending (acausal loops being a particular bugbear of mine), the complaints regarding Russell T Davies's tendency towards the Doctor = magic/God/Messiah were looking unfair, to say the least. RTD's Doctor had limitations. Even at the end, in Waters Of Mars, when he did get a bit God-complexy, the humans turned round and demonstrated that he was really being monstrous and that limitations on power are a good thing. Doctor Ten said "Time can be rewritten" and did so. But the people who needed to die still died.
Doctor Eleven said "Fezes are cool" and handed plastic Rory the sonic screwdriver that would release him from the Pandorica, because plastic Rory had used the sonic screwdriver to release him from the Pandorica. And that's not magic/Godlike? Where are the limitations if time can be rewritten and all he has to do is decide to do something in the future so that something in the past can make that future possible?
Don't get me started on the Christmas Special. Jumping the shark is so boring, like the blue stabilisers. Let's take the shark for a ride instead. And, while we're at it, change the thought patterns of someone in a way that renders the events leading up to the episode unlikely at best.
Gnash, gnarr, gnash.
Thus we come to the new series, so hotly anticipated it achieved the highest ratings of any BBC America show ever, and set the fandom abuzz with effervescent praise:
…the credits roll and a nation is left yelling at the screen in shock and awe.

http://www.cultbox.co.uk/reviews/episodes/969-doctor-who-day-of-the-moon-review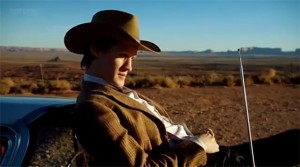 Really. Personally I was left with the sour taste of disappointment and the feeling that I'd been watching some sort of alternate-universe Doctor: Ultimate Doctor Who as opposed to Earth-616 Doctor Who.
Back in Forest of the Dead River Song had this to say:
When you run with the Doctor, it feels like it will never end. But however hard you try, you can't run forever. Everybody knows that everybody dies. And nobody knows it like the Doctor. But I do think that all the skies of all the worlds might just turn dark if he ever, for one moment accepts it.
Apart from a short bit of preamble, The Impossible Astronaut kicks off with the Doctor saying that it's time to stop running then, not to put too fine a point to it, wandering over to an ambulatory spacesuit and getting himself (apparently) shot to death.
So. Here we are. We have begun with the impossible. We know that the Doctor isn't dead. For one, this is the start of the new season and it's called "Doctor Who". I know they carried on Taggart after Taggart died, but still. It wasn't terribly successful. There are also the Singing Towers at Derillium to consider. The Doctor sees River there — it's the last time she sees him before the Library — and gives her the red sonic screwdriver. That was "her" Doctor. Fairly late in his timestream, almost at the end of hers (we'll come back to that). Older, wiser, someone who has made entire armies turn back (and I don't think she was referring to the night at Stonehenge). I don't care that they've burned the body. Moffat might have once suggested that Matt Smith's Doctor will never regenerate again but I doubt that one writer or actor can claim to own a character like the Doctor in that way. We could argue that Easter Island, Jim the Fish and the visit to the Singing Towers come before the invitations to the Impossible Astronaut Picnic. Just because Derillium was the last time River saw the Doctor before the Library, it doesn't mean that was the last time the Doctor saw River. But still, Taggart Law applies. He's not dead. It's only episode one.
Then the Doctor reappears (bazinga), 200 years younger, calm as you please and for some reason is reluctant to go adventuring until Amelia Pond persuades him with fish fingers and custard. When has he ever been reluctant to go adventuring? Remember the episode in which he met Martha Jones in hospital? There they are, on the moon, contemplating going outside for a wee look.
"We might die," says the Doctor.
"We might not," says Martha. Big grins all round, she's a girl after his own heart and has earned a space in the TARDIS.
Oh and the instruction to Amy and Rory to go off and make babies… ENOUGH WITH THE PREGNANCIES ALREADY. Seriously. What is it with Moffat and the idea that women should be, or be about to be, or have been not too long ago, pregnant? It reminds me of Absolutely's Mr Nice relaying the facts of life to his children (scroll to 16'53):
"People get married and have babies. Any questions?"
The Doctor, under the written supervision of Mr Moffat, appears to be utterly obsessed with humans having babies. River Song gets kids after being uploaded to the library. In The Lodger the Doctor advises Craig and Sophie how many billions of people there are in the world and tells them that's the number to beat.
It is possible to be successful, happy and fulfilled as a female without having produced more humans. Not having children is a valid choice and it bugs me that Moffat is giving the message that the natural and inevitable and desirable consequence of a woman building a stable heterosexual relationship is pregnancy and motherhood.
Leaving the baby-factory undercurrent aside, hard as it is in this particular double-episode, which is all about making babies, there are the inconsistencies.
I don't mind confusion. As a matter of fact I enjoy a lack of exposition where that exposition is unnecessary. However, I do not enjoy the feeling of having to go back and rewatch something several times because the failure of things to add up makes me think I've missed something, especially when it turns out I haven't. Here are a couple, although there were more, and I'm not going to start on the last series.
The Doctor asks Rory if he remembers the 2000 years of looking after Amy in the Pandorica. Rory says yes. How does that work? They restarted the universe. The universe that exists now isn't that one because it has Amy's parents in it, for a start. Rory is no longer a Nestene duplicate, so how could he remember? He wasn't there. And if he was there, is he still plastic?
When Amy is at the children's home, why does she resort to putting the black marks on her skin even though she (apparently) still has the implant (which, by the way, was enormous and would have bloody hurt, not to mention rendered the hand practically unusable)? Let's, for a moment, consider that between first telling herself to get out and seeing herself with black marks, she has been sucked away in the time machine first seen in The Lodger and no longer has the implant. Why then, is it found on the floor in the room from which she is ultimately kidnapped rather than the room with the Greys hanging from the ceiling? That loose end had better be tidied up at some point, and not by destroying the universe again.
Has the Doctor ever been the sort of person who would blithely give the whole of the human race a post-hypnotic suggestion to commit genocide? Because that's what he does, and I'm not accepting the argument that it was the Silents (or Silence, I've seen it spelled both ways) that did it to themselves: without his intervention the message would not have been distributed. He was also just a little bit too gung-ho happy in the final shoot-out too. This is Doctor Who, not Gunfight at the OK Corral.
And, assuming that this worked, by Moffat's own rules Amy and Rory should already have been programmed to respond to the sight of one of the aliens by killing them because they were both born long after 1969.
River's assertions that they are living their lives back to front doesn't add up either, not when you take the Singing Towers at Derillium into account. Are we really supposed to believe that the time the Doctor gives her the red sonic screwdriver, knowing she is going to her death, as old as he is then; that the day he cries over her he doesn't kiss her? She doesn't get a kiss from her "old fellah" on the last time she sees him before she goes to the place where she will die? He was all up for a quick snog from Madame de Pompadour but he's not going to give Professor River Song a farewell kiss because the next time she sees him he won't know her?
Funny thing is, this means you've always known how I was going to die. All the time we've been together you knew I was coming here. The last time I saw you —the real you, the future you, I mean— you turned up on my doorstep with a new haircut and a suit. You took me to Derillium. To see the Singing Towers. Oh, what a night that was. The towers sang, and you cried. You wouldn't tell me why but I suppose you knew it was time. My time. Time to come to the Library. You even gave me your screwdriver.
And, even assuming, for the sake of argument, we look at this from only her perspective, because she hasn't been to Derillium yet, this still doesn't make sense because she's just seen the Doctor when he's 200 years older than the one she saw the time before. The evidence is already there that:
We're travelling in opposite directions. Every time we meet I know him more, he knows me less. I live for the days when I see him. But I know that every time I do he'll be one step further away.
isn't necessarily true. As an experienced time traveller, who knows that it's possible to go forwards and backwards, she should know this.
The deliberate use of "dropped from the sky" by both River and Amy in order to confuse Rory was lazy writing. Yes it's just a saying. But while it's one that could be used of a man who arrives unexpectedly in a blue, time-travelling spaceship, it's not likely to be used of someone with whom one has grown up in the same small village. The idea of Amy describing Rory, the boy from her village, as dropping from the sky is utterly implausible and done purely to make Rory and us think that maybe it's the Doctor she loves after all. That's blatant manipulation purely for the purposes of dramatic effect and the audience deserves better. We've had an entire episode devoted to which of the two Amy loves that way: it has been resolved. Move on.
It may well be that confusion is the new black and actually everyone is very happy to be left with far more questions than answers. It's fair enough that people like the feeling of not having exposition laid on with a trowel and everything tied up neatly. Maybe they prefer the big special effects and the bangs and the gun battles and the melodrama. Perhaps what I see as being mashed together so that the joins are still visible is really a brave move in not pandering to audience expectation.
And yet I can't help but feel like I did when they remade The Italian Job — the original was tight, witty, sharp, poignant, even camp. It was genteel. It had a mellow kind of joyful exuberance:
"You're only supposed to blow the bloody doors off!"
The new one was slick, polished, modern and had big bangs that were celebrated as opposed to being cause for exasperation:
Charlie Croker: That's Left Ear. Demolition and explosives. When he was ten, he put one too many M-80s in the toilet bowl.
[Cuts to the exterior of a toilet stall. Suddenly the door bursts open from an explosion. The toilet is spraying a fountain of water up]
Kid On Left: Damn, that was cool. How did you do that?
I am afraid that the new Doctor Who might be falling into the pattern of characters conforming to plot, like so many things I used to enjoy. In this case the plot is brighter, bolder, BIGGER and more WHIZZ-BANG EXCITING with LOTS OF HECTIC ACTION and THINGS GOING ON. Have we forgotten that it's possible to do lots and lots of running without it ever tipping over the edge into frenetic?
I really hope not.
~>0<~
1: According to various sources there are between 1 and ~4kg of bacteria in the human body. Given that I've been on antibiotics of one sort or another for around 2 weeks now, you'd think I'd have lost some weight. But no. Dammit.
:review, sad marvel fangirl, tellybox
2 comments for this entry: