May.02, 2011, filed under games, gaming, Geekery, Reviews
While everyone else was rolling painted eggs down hills, chasing after Easter bunnies and stuffing themselves full of chocolate, my main concern about the penultimate weekend in April (other than the trip down to Lincolnshire for my mother-in-law's birthday) was the release of Portal 2.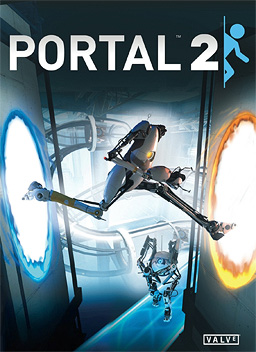 In a gaming world where most of the action titles seem to be taking the "increased difficulty = more monsters and more shooting", finding a title that is engrossing, has a good narrative and doesn't rely on ultra-violence is quite difficult. I haven't bought a new adult action game since Bioshock 2 — I've been buying things like Little Big Planet 2 and Rabbids titles instead. Compare Resistance: Fall of Man with its sequel, FEAR likewise — I haven't gone near Dead Space 2 because the original took that to a frustrating extreme. There is only so much I can cope with button mashing through a fight only to run straight into another one with barely enough of a break to regain a couple of health bars.
Portal 2 is a breath of fresh air in a room stale with the scent of testosterone, cordite and spent shell casings.
It's a puzzler, much like the first one. The first one, however, had us join Theseus after entering the Labyrinth then bug out as soon as the Minotaur was dead. In Portal 2 we get to see a bit more of Crete and the Kingdom of Minos.
Gameplay is similar to the first offering, although there is less reliance on laying portals in exactly the right place with impeccable timing and more on figuring out the correct sequence and making use of the portals to achieve the seemingly impossible. While I had a considerably frustrating time with the original, lacking the precise hand-eye co-ordination required to make accurate portals at high speed while flying through the air, I found Portal 2 to be just frustrating enough. I liked the logical progression of problem solving. Rather like doing a crossword, it's necessary to gain an eye for it, to learn the rules and the patterns. There is a sense of accomplishment in gaining the mindset required to solve the puzzles. The achievement here isn't being able to slaughter more and bigger and stronger rabid creatures: it's being able to solve ever more complex puzzles that on first glance seem impossible until a solitary patch of white turns into the end of a thread that will lead you through to the exit.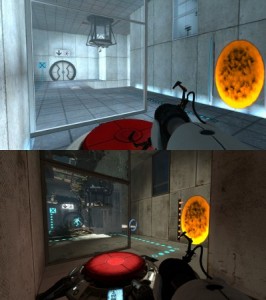 There are nods to the original in the use of some of the same test chambers, run through the decay mill. If you are expecting the game to be as short as the original you are in for a shock at the point you think you have escaped into the outside world. The use of the derelict original facility to bring in a whole new set of puzzle types and give some background to the Aperture Science facility was enjoyable, seasoning the very dark storyline with welcome humour.
Another point for which Valve has my undying love is that our protagonist is a woman. But she just happens to be a woman. There is a point halfway through the game where GLaDOS says "She did all the work!" If you have been concentrating on the gameplay rather than laying out portals to get a look at your character, and know nothing of the game, this is the first time the sex of the character is clear. This isn't Silent Hill, where being female inevitably leads to a plotline involving maternal instinct; or a reason for pneumatic busts à  la Lara Croft; nor the ridiculous posturing of Bayonetta. Portal 2 passes the Bechdel test with flying colours, even when one of the women involved is a potato. (Spoilers!)
"Oh, it's you. It's been a long time. How have you been? I've been really busy being dead. You know… after you murdered me? Okay look, we both said a lot of things that you are going to regret. But I think we should put our differences behind us. For science. You monster."
I couldn't have been happier had a Big Daddy removed his helmet to reveal he was actually a Big Mummy.
We haven't started on the co-operative level, and there are several achievements that I missed on my first run through, so there's plenty of gameplay in it yet. If you fancy something a bit more cerebral than your standard first-person shooter, where difficulty isn't measured in how many times you die in a sequence before you learn the spawn patterns and get your timing just right, I can thoroughly recommend this engaging and satisfying number from Valve.
I won't spoil the ending, but yes, there is a song.
:feminism, games, ps3, review
No comments for this entry yet...