Apr.22, 2011, filed under Geekery, Photography, rambling

There is a long and sorry tale practically worthy of a Norse saga associated with me and my mobile phone. Maybe one day I shall write the whole thing Edda-style: the challenge being that I am so fed up with it that it would be hard to make a reader not be fed up with it too.
For various reasons to do with the way Frood and I acquired our very first mobile phones, back in the dim and distant past, it hasn't been easy to upgrade when time came due. My first relatively contemporary phone was a Sony Ericsson K850i, but I drowned it on a camping trip. Well. I say 'drowned'. It got slightly moist in a manner my old Nokia would have shrugged off. Mind you, my old Nokia shrugged off being dropped in ponds, beer, puddles, the sea and even a toilet. There's something to be said for old tech.
I digress.
Since the damp demise of my previous mobile I've been using Frood's old Samsung something-or-the-other, which weighs as much as half a housebrick and is sturdy enough to be used as a offensive weapon, assuming that you keep the slide shut. It has the most irritating interface of any phone I've ever used, and has reduced me to swearing on more than one occasion with its insistence on using a set of nested options positively bureaucratic in its complication in order to achieve the simplest of things (such as choosing a recipient for a text message). I've never experienced so many delayed voice message notifications or lost text messages as I have with this phone. And, to rub dirt into the road rash of annoyance, Frood has been sitting on the sofa twittering and facebooking on his WiFi networked HTC Android phone for about a year now. The git.
Last weekend we went to the shop and upgraded my phone. I am now the proud owner of a brand-new, shiny, HTC Desire S, and it has not only brought out the geek in me but given me cause to think.
First there's the playlist problem. The HTC Desire S doesn't recognise WMP, which means that transferring a playlist (.wpl) gets all the songs onto the phone, but not in the desired order. Thinking it might be another MMT setting I did some research, musing on how I was already coming at the problem from a whole new platform built on my experience with the Samsung. A problem that Frood has been dealing with for a while was solved in five minutes of google-fu. We've ended up installing MediaMonkey and now Frood is engaged in the task of converting our old PC into a proper music box, mostly by re-ripping all of our music so that it's stored in a consistent format.
Then there's the camera. It's only 5MP. I had my eyes set on one of the new Sony Ericssons, with their 8.2MP cameras, but there weren't any in stock and I do carry my Canon Ti 10MP around with me everywhere anyway. But then I discovered the retro camera app and I've been having some fun with that.
Here's a picture of me wearing my new Buff hat. I took this using the standard camera. There's a small front-facing camera on the phone so you can see what you're doing in self-portraits, although you have to stay very still and the quality isn't the best. The hat is reversible and adjustable and has a neoprene peak and groovy cave-painting style figures all over it, including one of someone on a bike. It is the best cycling hat I have ever had, and I own two Campag hats.
Speaking of which…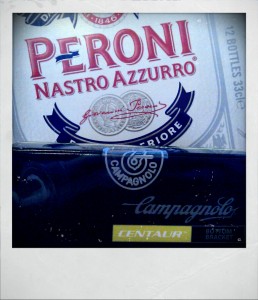 Here is a shot I took using one of the retro camera functions. It shows a box of Peroni (Italian beer) next to the new bottom bracket that finally arrived. It's a Campag Centaur to go with my Centaur triple chainset. Two lovely Italian things. Beer and a bottom bracket.
I am the sort of woman who gets excited by shiny new tech toys, but only when they have improved functionality and make my life easier, more fun or more interesting. I'm also the sort of woman who can overhaul the transmission on her handbuilt British-made touring bike (with the 6mm offset rear triangle for an undished rear wheel, boo-yah baby) and appreciates not just the functionality of the bicycle but the inherent beauty in high-quality components.
What else? Here's another picture:
This, for me, encapsulates what I find most geeky about myself. I'm wearing my new Minister of Chance t-shirt (GO! BUY! WE NEED MOAR!) — and I experienced a little warm glow of pleasure when I received an email from the crew thanking me for my support. There's a bike in the background. In my life there is always a bike in the background. There's a stack of Fortean Times magazines, because I use them as research and also harbour an ambition to write something one day they might publish. I took this using a retro camera on a shiny new smartphone with which I'm deeply in love: a camera effect I chose because it makes it look like I'm taking postcard shots during a zombie apocalypse. I'm wearing my buff hat, although you can't see it, and I'm not looking my best. But that last point doesn't matter. This is me. I have one eye: the missing one I have replaced with moulded black plastic. What is important about me isn't what I look like. It's not the fact that I have wrinkles and grey hairs or scarring from a skin disorder. It's not, to revisit an old complaint, my breasts or my buttocks or whether lycra looks good on me.
I enjoy feeling attractive, and it's not that I won't make the effort on occasion. But it's not what defines me. In a recent discussion online regarding the objectification of women one of the participants observed that it's human nature to find people attractive: he used wanting to look good for one's wedding as an example. And I think, for my wedding, I did about as good a job as I could have done with what I've got without calling in the services of a professional stylist.
But wanting to be and enjoying being seen as attractive doesn't make a woman's looks public property and it doesn't grant tacit approval for her to be reduced to breasts and bum and maybe a pretty face on top.
My favourite wedding photo is this one:
I think I look pretty damn good in that. But I also think I look like me in a dress (and, for added geekery, a pair of Vibram Five Fingers).
What I am is all of these things, and it's true of every other woman. We are all more than what we look like in our chosen form of dress. Someone might look at one of my triathlon photos and see nothing but an arse in lycra (and they do, believe me). Yet who I am is someone who can build her own wheels and would be quite capable of handling herself come the Undead Armageddon. I can sort out technical problems with our home network and have a strong view on component choice. I can spot a 5mm hex key at a distance of ten paces. I like computer games. I read and write and enjoy science-fiction. I have lived life and taken its knocks and it shows. I am all these things, and more, as well as someone capable of putting curves in green velvet.
I think it's tragic that we are still prepared to judge accomplished women by what they look like. I think it's unfair and annoying that women who are conventionally beautiful will tend to do better than women who aren't; and that our media constantly chooses conventionally attractive women as every potential role model, thus propagating the idea that being good at what you do is not enough. I get angry when someone uses a woman's desire to feel attractive in order to please herself as justification for looking at that aspect of her in isolation. And I become utterly livid when I'm told that it's just boys being boys and only a bit of fun and I'm taking it too seriously.
Equality isn't about treating everyone the same. It's about looking at people for what they are in totality: the sum of their talents and abilities; their hopes and fears and passions.
I could never have been a supermodel. I am not a clear-skinned, fresh-faced, perfectly symmetric, youthful beauty. There are days when I am depressed by how I have been culturally indoctrinated into thinking my life could be better if I were. But if you were trying to get your playlists to synch to your mobile device before hitting the road when there was no petrol left and there were zombies in the garden, I'd be your huckleberry.
:feminism, gear, geek, photos
No comments for this entry yet...