Jul.06, 2014, filed under Aberdeen Assault, Cycling

I know I owe a couple of race reports, however let's ignore the triathlons for a moment and reflect on this year's inaugural Aberdeen Assault.
I posted about it previously — as is usually the case with LGC events, the route was carefully thought-out, considered in detail and ridden in advance to ensure it would be enjoyable, pleasant and practical.
Oh, no it wasn't. They never are. All LGC event planning consists of me, some maps, Google, a few G&Ts and an over-riding sense of, "Fuckit, what's the worst that could happen?"
I arrived at Kirkcaldy station on my recently polished Pinarello (that's not a euphemism), where I met with my two intrepid companions, M & V. They admired my bike (who wouldn't?) while I availed myself of the facilities in the Platform 1 waiting room, knowing that all the coffee I'd been drinking that day would mean I was going to be counting the miles to the next set.
It was M's first night ride, first century, first ride on a new saddle. It was V's first overnight century. It was my first ride of more than 30 miles in about 3 years. What could possibly go wrong?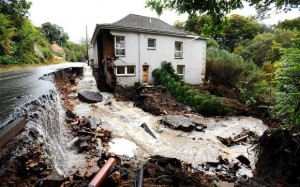 Not much, as it happens. M & V showed an odd lack of desire to stop at The Ceres Inn for a wee dram, even though it was a beautiful evening and the beer garden looked friendly. (Can any Dumb Runners imagine not stopping at the Kirkhouse? It would be weird and wrong.) Dura Den was interesting — it has been closed to motor traffic ever since floods took out the road, but when I checked on the Fife Council website there was no listing for it, so I thought it would be open. Friends confirmed that it was closed to cars but bikes could get through. When we got there, the big concrete barriers left just enough room for a bike to squeeze onto what's left of the road, and the signs saying "DANGER, KEEP OUT, UNSTABLE GROUND" lent a frisson of excitement. Bats swooped around our heads as we picked our way nervously past the orange fence lining the devastation, the gloom enhancing the prickling sense of moist verticality off to our left.
The waterfall, sadly, was invisible behind thick, verdant vegetation, but we could hear it.
Onwards, then, and up to Tayport and thence the Tay Bridge. I was pretty glad for V's familiarity with the roads here — the car park I was expecting to appear on the right turned out to require a left turn first, so I'll be adding that note to the route sheet for next year.
We stopped at the big Tesco's on Riverside Drive for a rest break, where M bought snaplights and I bought beef jerky (having come amply provided with snaplights). After a slow start we'd got back on my tentative schedule, and were feeling good.
Swooshing through Broughty Ferry, we passed a few Herberts who had been pulled over by the police. I wasn't sure if they'd been stopped for speeding or if it was a stop-point for random breathalyser tests. I asked the woman officer if we should stop too, but she waved us on. We were then onto the only part of the route where I wasn't 100% sure of my directions, and, as always when the turn isn't familiar, it seemed to take longer than I was expecting to reach the turn onto the Arbroath road.
There we found ourselves on a dual carriageway, but at 1am, in a group of three, with serious amounts of rear lighting, it was perfectly safe and probably one of the most enjoyable sections. Straight, clear, fast, and with the refreshing nocturnal chill that leaves your skin feeling like a shell over the thermonuclear core of your exercising metabolism. I love that feeling, and it's one of the many reasons I do overnight centuries.
We stopped briefly on entering Arbroath to add some layers, as the chill was starting to become less enjoyable. M set his helmet down on the wall there, which was to have unexpected consequences later.
On the Dumb Run it was always dark, but with a faint orange glow just above the horizon. On this route the sun was a dirty stop out, and it didn't ever get properly dark. We took the required jelly baby shot at 3am in Montrose, and the sky in this shot is only a little lighter than it had been an hour before:
I'd raced in Montrose only a few weeks previously, and had driven home via most of the route we intended to take from here, so we were back on familiar roads. We stopped again just outside Montrose to answer the call of nature, more bats flitting around our heads. I disturbed a badger in the undergrowth (sorry!) and M made a terrible discovery: when he took his helmet off there were slugs on his head. It would seem they'd hitched a ride in Arbroath. I don't think they expected to end up the other side of Montrose.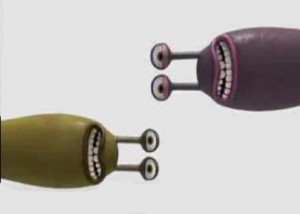 The next section was a beautiful, undulating coast road up past St. Cyrus and Johnshaven, with bunnies fleeing from the verges. Into Inverbervie, then the slow climb up to the dual carriageway before a right turn and a fast, twisty descent into Stonehaven. Although Frood had agreed to come and bring us breakfast in Stonehaven, we agreed to press on in an effort to make it to Aberdeen before the rain hit.
The climb out of Stonehaven was the only serious climb of the ride. I made it with some swearing, and waited for M and V to catch up. M was suffering by this stage, not being the kind of person who routinely stays up all night (see, there are advantages to being an insomniac). V had gone into motivational mode, and I followed suit. I confess to a few little fibs about the lack of uphill bits in the next section (I'd never ridden it, but I knew we'd just done the only hard ascent, so the rest of it couldn't count as proper hills). But we didn't have far to go, and the rest of it was relatively easy.
Through the drizzle and the odd early morning lorry overtake, then down and down onto the South Deeside Road, where it was a flat run straight through to the beach. At the first sign that said "Beach" I started yelling "BEEEEEACH!" and kept yelling it every couple of minutes as encouragement, while biting back the urge to sprint hell for leather for the end.
We arrived at the Pirate Dolphin to find Frood waiting with bready comestibles and hot coffee, the absolute superstar.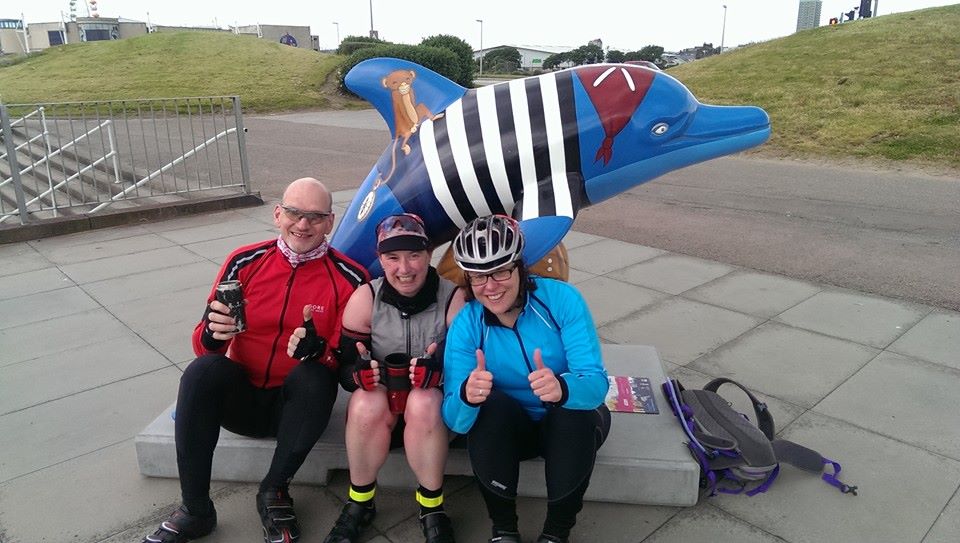 Why do I do these things? It's for that sense of cold skin around a hot inside. It's for the banter. It's for sights you would never see otherwise — noctilucent clouds above skittering bats, rabbits bouncing white and brown up the hillsides, hares accelerating across a field, a grown man wiping slugs from his head, crows calculating whether it's worth stepping away from roadkill to let you by, bike lights shattering in dawn rain. It's for the nocturnal silence broken only by the huff of breath and the ticking of freewheels, the hum of tyre on tarmac. It's for running around a major supermarket at midnight in skintight lycra and socks, and no one paying a blind bit of notice because anyone shopping at midnight on a Saturday is a bit out of the ordinary anyway.
I do it because I get a primal sense of satisfaction from turning the pedals for hours on end. This ride provided all these things, and I'm definitely doing it again.
It's a great ride, and with the regular Dumb Run crowd I reckon it would be a fast one. It's an easier route, the scenery is fabulous, the midnight sun amazing, there are more bridges and the roads are quieter. It's on a par with the Dun Run in terms of ride effort, and although we rolled to the finish at around 07:30, I think you could get to the end by 06:00 with fewer stops and more experienced riders.
I don't know that I'll never do the Dumb Run again — anyone who wants to do it can pitch up at LGC and ask for the route sheet, we don't mind) — but the difference in light means that the Aberdeen Assault is now my favoured Overnight Summer Solstice Century.
Next year it will be on Saturday the 20th June at 8:30pm (20:30). See you there!
:Aberdeen Assault, Cycling, dumb run, LGC, overnight century, peregrine
1 comment for this entry: