Mar.23, 2011, filed under Life with Frood, Planet Sam

On Monday of this week it was Frood's and my twentieth anniversary. Two decades, five weeks and five days exactly had passed since we first met; twenty years two weeks and five days since we got engaged; and thirteen years exactly since we got together with friends in a circle of stones millenia old and promised to do our best to make one another happy for the rest of our lives.
For our twentieth anniversary we made it official and legal in a manner recognised by the state. In other words, we got married.
We were lucky with the weather: it was the warmest day of the year so far and the sun shone for us. There was nothing traditional about it save for the exchanging of rings — the bride and groom would have been the first ones there if we hadn't had our friend Andy staying with us.
I did, however, manage to resist the urge to have GLaDOS sing "This was a triumph" as I entered.
My thanks to everyone who sent us good wishes, cards, gifts and luck on the day. My especial thanks to Calum and Puzzle, Will, Andy, Neil, my brother Nick and of course my parents for making it a special day to treasure. It was a good day — a great day — because they made it one. Seriously guys, you are all awesome and I'm incredibly lucky to have friends and family like you.
My thanks also to Tom Eckles, for allowing us to use one of his photographs in designing our rings and to Alan at GETi for making them.
Here's to at least another twenty years of what Red Stags Morris once called, with visible relief, mutually assured distraction.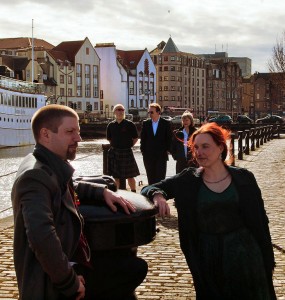 :
frood
3 comments for this entry: